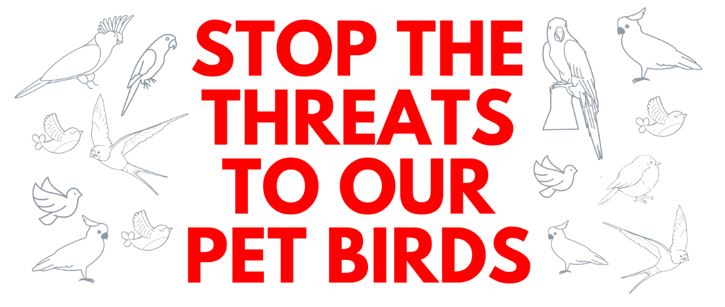 Pending Legislation Under the COMPETES Act Poses Threat to Pet Bird Community
The U.S. Congress is currently deliberating on a sweeping piece of legislation that would have a harmful impact on the pet bird community if enacted. Known as the U.S. Innovation and Competition Act (or the COMPETES Act), the bill contains amendments to the Lacey Act that would allow the federal government to ban many species of pet birds from being brought into the country or from being transported between states. As a result, this law could make it significantly more difficult to find certain types of birds at pet stores, expos, or from breeders. In an effort to prevent these amendments from being enacted, the Pet Advocacy Network is urging pet bird owners, lovers, and related businesses to take action.
How could the COMPETES Act affect the pet bird community? 
While the COMPETES Act includes several positive provisions that have broad bipartisan support—such as those designed to address supply chain and national security issues related to China—the current House version also features provisions that would be harmful to the avian community and broader pet care community. Specifically, the COMPETES Act would do the following if enacted:
Create a whitelist of approved species that can be imported, where any animal not listed is treated as an injurious species by default and banned from importation into the U.S. As noted by the Pet Advocacy Network, the process of maintaining this list could make it difficult and time-consuming for the U.S. Fish and Wildlife Service (USFWS) to thoroughly review and conduct risk assessments of potentially millions of species—thereby causing delays in live animal shipments, threatening animal wellbeing, and having a detrimental ripple effect on countless businesses in the pet industry.
Expand the authority of USFWS to prevent interstate transport between states of species listed as injurious.
Grant the Secretary of the Interior powers to use an "emergency declaration" to prohibit importation of a species found to be injurious to humans, agriculture, horticulture, forestry, wildlife, or wildlife resources for up to three years. The emergency declaration would be effective immediately on publication in the Federal Register, unless extended up to 60 days.
While most birds sold at brick-and-mortar retail stores are bred domestically, there are some species that are often imported and undergo an extensive quarantine process with the USDA in order to supplement the U.S.-born supply. These include popular pet birds such as parakeets, canaries, cockatiels, love birds, and several others.
What can the pet bird community do? 
The Pet Advocacy Network suggests a few options for how members of the pet bird community can do their part to stop enactment of the harmful provisions of the COMPETES Act. For example:
Complete the form found at https://petadvocacy.org/lacey-act-campaign to automatically send your concerns to your state representatives. While the Pet Advocacy Network provides verbiage in the message box, you are encouraged to add some words of your own to fully express how you would be affected by the provisions in question.
Call your representatives. The Pet Advocacy Network provides a list of office phone numbers, as well as a suggested script for voicing your opposition.
Share the https://petadvocacy.org/lacey-act-campaign page on your social media platforms in order to spread awareness of this issue.